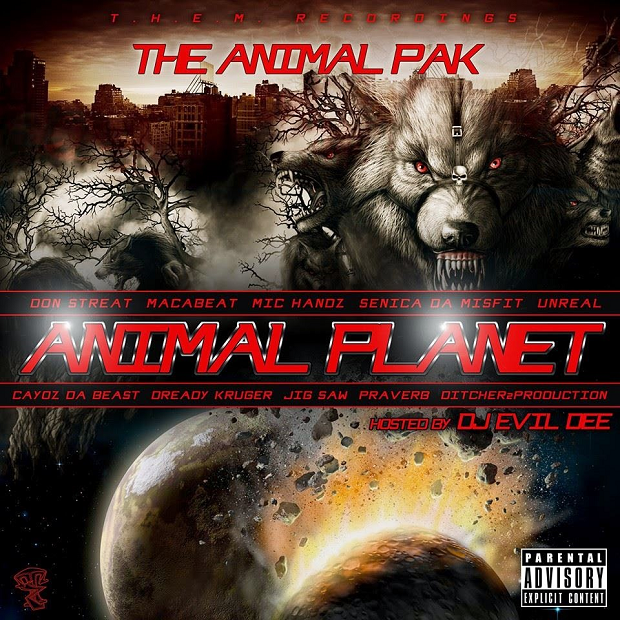 T.H.E.M. Recordings

have unleashed their Animal PAK on the world.

"Animal Planet"

is hosted/mixed by the legendary

DJ Evil Dee

(of Black Moon), featuring the godfather Kool G Rap. The supergroup consists of pure animalistic rage and hunger manifested in the form of lyrical feasting, under the leadership of

Don Streat

. The PAK terrorizes tracks and venues across the nation and overseas, with backdrops provided by an array of international craftsmen, led by Dichter2Productions (Germany), Cool FD, Alterbeats (France), These Handz (Belguim+UK), Hazernomical, Cayoz The Beast, Vanderslice (USA) and more.
-----------------------------------------------------------------------------------------------------------------
-----------------------------------------------------------------------------------------------------------------
01.) Animal Pak [Intro] (Produced by DJ Grazzhoppa)02.) The City (Produced by Cool FD)
03.) VS (Produced by Vanderslice)
04.) Quid Pro Quo (Produced by Cool FD)
05.) Slow Burn (feat. Do It All) (Produced by V-12)
06.) The Pak (Produced by J Hart)
07.) Sleeper Cell (Produced by DRUGSBEATS)08.) World We Live In (Produced by Pyro)
09.) Thorn of Roses (Produced by Hazernomical)
10.) Murder Wordplay (Produced by These Handz)11.) Bas Tard [Remix] (Produced by These Handz)12.)

Vietnam Kidz (feat. Kool G Rap)

[Remix] (Produced by These Handz)
13.) Top Tier (Produced by M.W.P.)
14.) Kingdom (Produced by Macabeats)15.) Letras Liquidos (Produced by Cayoz The Beast)
16.) Fluxx Wit it [Remix] (Produced by These Handz)
17.) Dumb Wit it (Produced by Cool FD)
18.)

No Mistakes

(Produced by O*Zee) [Bonus]
*Written & Performed by Animal PAK